QUANTUM-SECURE YOUR STORAGE

Next-Level Security

DigiThree's quantum storage architecture follows a true peer-to-peer design, with all participating servers only storing small, incomplete parts of the object descriptions of files, photos, movies, databases and more. Each storage device offers a slice of its present physical capacity, with storage and retrieval of the distributed fragments taken care of by software.
A closer look
Let's imagine we want to store the DigiThree logo. In this example, the logo is our original object, and is represented digitally by a large number of bytes, which in turn are made up of bits (1s and 0s).

This long sequence of 1s and 0s is broken up into smaller sequences, which are then compressed so an encryption algorithm can create shorter numbers. These numbers can then be represented by variables – shown in the diagram as a, b, c and d.

Because our variables have been created by the same algorithm, the process can be reversed, (either through engineering or a brute force attack) the original data sequences retrieved and the original object restored.

This can be done by an adequately powerful, stable quantum computer, and is what most storage protocols and systems do.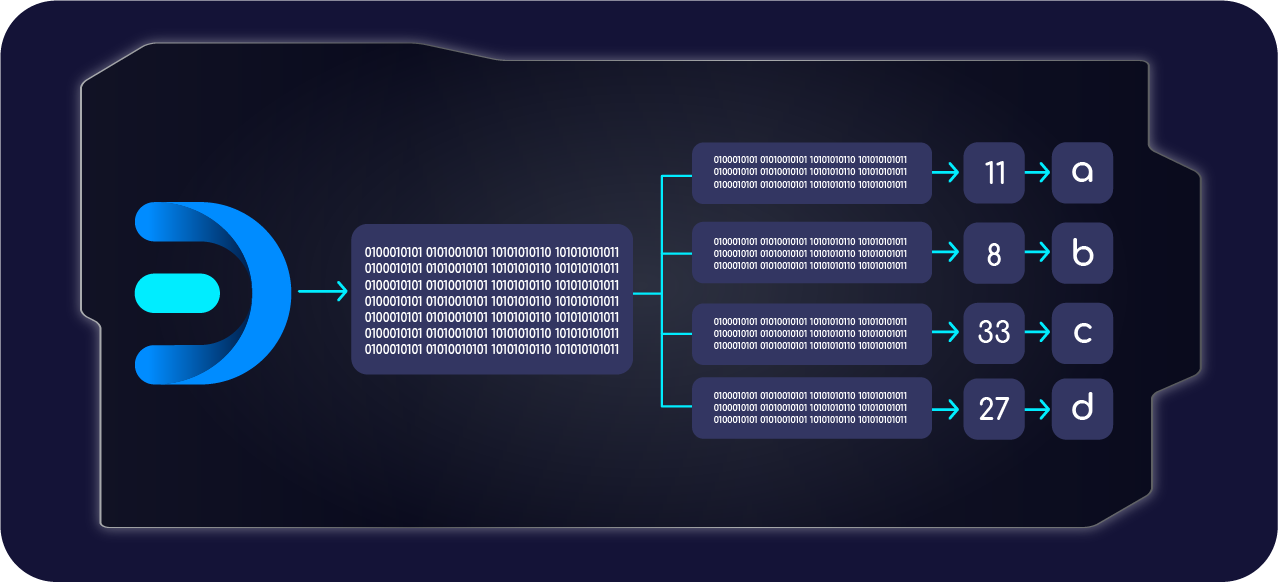 Added security

Here at DigiThree, we take one more step to make data storage quantum-safe and impossible for quantum computers to hack.

We create a mathematical equation with each variable – one to represent each original data part – resulting in a mathematical system to which the only solution comprises the numbers that represent the original sequence of 1s and 0s.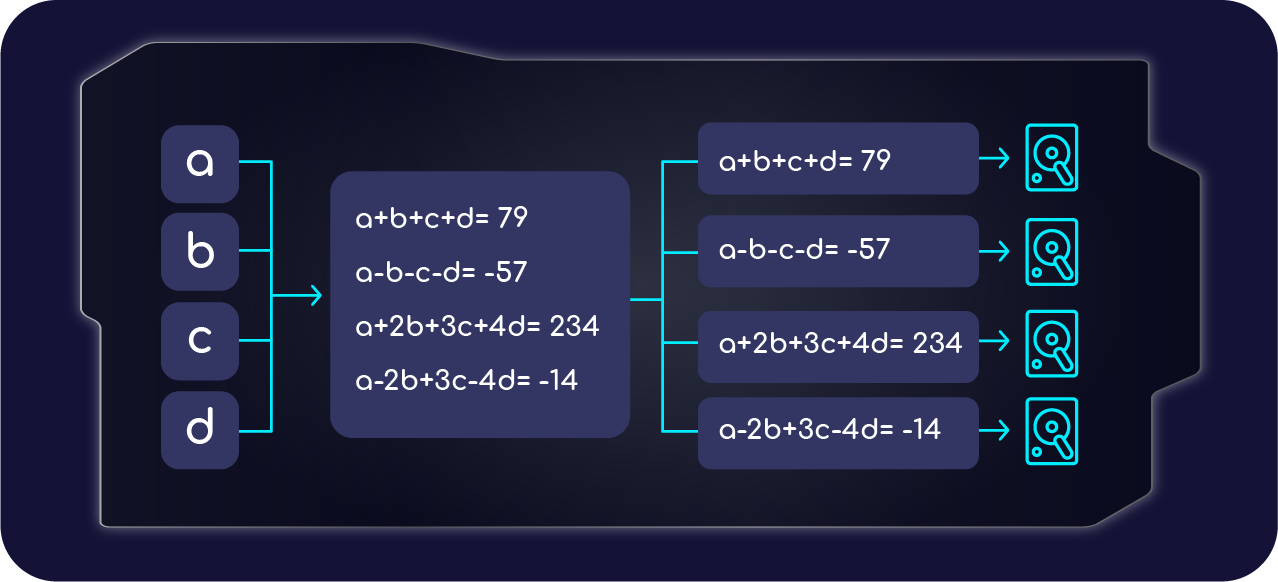 The equations can be stored on many separate disks, with an extra layer of fault resistance provided by the creation of further unique equations to be stored alongside them.

This process gives us a 'zero proof storage system', in which no stored data parts contain any original data – not even compressed and encrypted data.
Unique in the market
DigiThree's unique proposition selects storage providers and locations that match your application and business criteria.
Our solution can help you store data in certain geographical areas to meet governance and compliance requirements, or even use different storage policies for different types of data.

We make this possible through storage architecture, which can be created from the building blocks produced by ThreeFold farmers, and consumed by developers and end-users alike.
Close